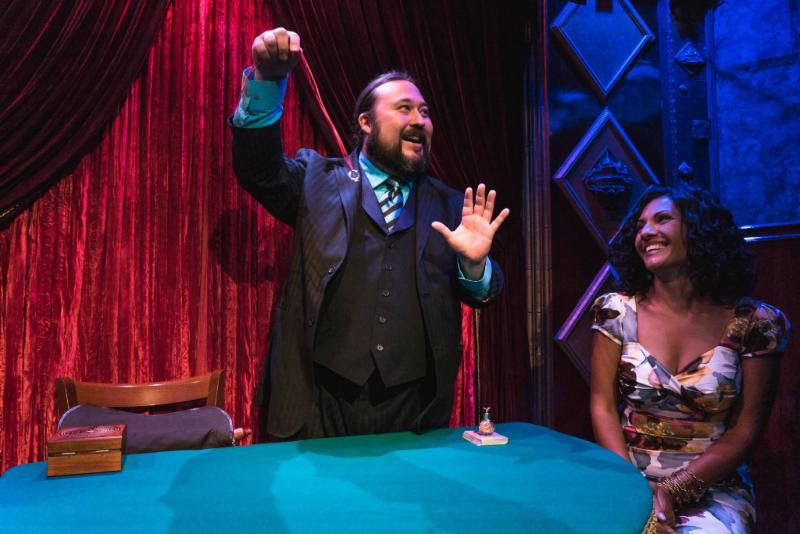 "A dream doesn't become reality through magic; it takes sweat, determination and hard work." -Colin Powell
I really like this quote from Colin Powell – it rings so true for me. But I must add that in my life, realizing my dreams also took a little magic!
This month marks my 10-year anniversary as a full-time speaker and entertainer!
October is also my birthday month, and on Halloween, I'll be 40 years old!
Conventional wisdom says that I'm over the hill, but it feels like I'm just getting started. It has been an exciting and difficult journey so far, but have I achieved the goals I set for myself all those years ago? Some of those goals have been accomplished; some have changed. I have always loved Bill Gates's statement that "people overestimate what they can do in one year and underestimate what they can do in ten." Never have I felt the truth of these words more deeply than I do now.
I began the Mysteries of the Mind monthly newsletter just a few short weeks after becoming an independent presenter and performer. Looking back on the first newsletter in my archives, it is shocking to see what life was like in October of 2008! I only had six shows on a list of upcoming events that stretched over four months – and those four months of shows combined wouldn't be enough to cover my bills for a single month.
I'm fortunate to be able to say that I believe my thirty-year-old self would be impressed (and surprised!) by all of the things that my forty-year-old self has accomplished. What do you plan to do in the next year? In the next ten? I can attest that you will have incredible success waiting for you if you keep pushing towards your goals.
Looking Back!
You can join me in my retrospective and retrace my journey through some of my old newsletters here:
https://www.pauldraper.com/newsletters/newsletter-archive I'll also share the demo video I was using at the start of my career, although it feels a bit like sharing hilariously outdated yearbook pictures:
https://www.youtube.com/watch?v=GO6gGrYN63k&t=24s
And even better, here is my television hosting reel from ten years ago!:
https://www.youtube.com/watch?v=BK4RuRq61lk&t=242s It both delights me and makes me cringe to see how much I have changed and grown!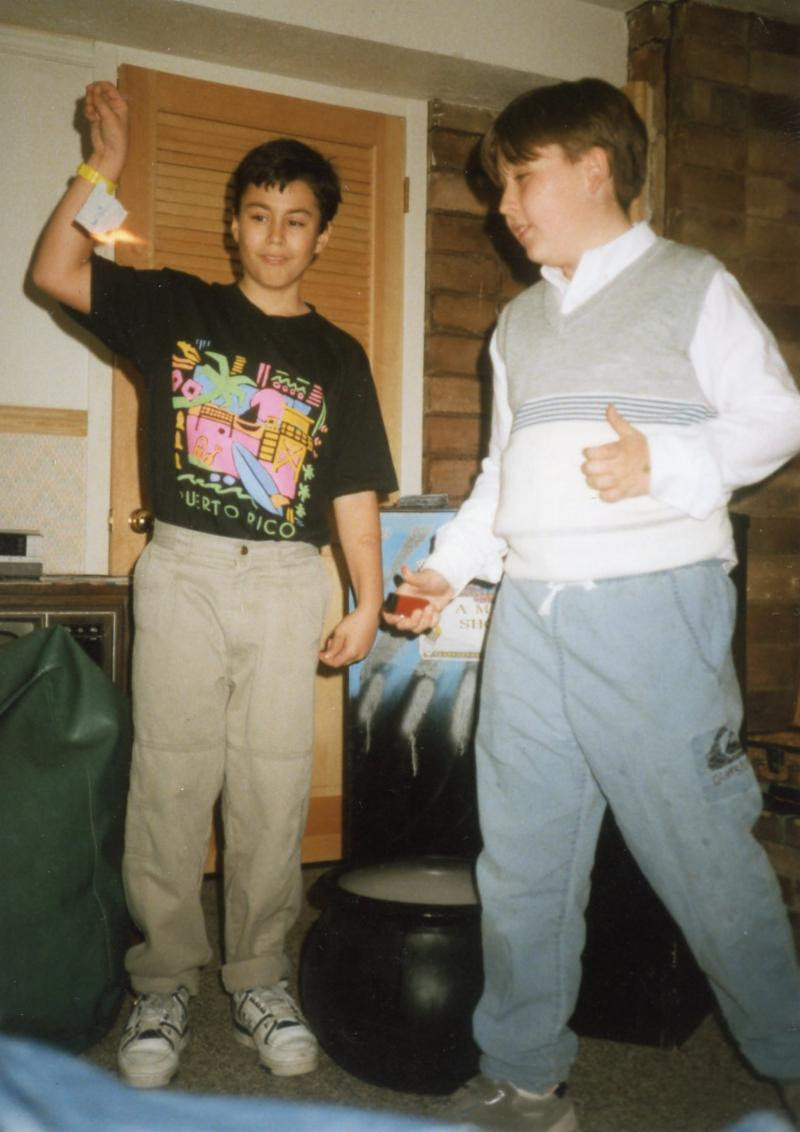 The best advice that I can give to anyone starting down the same track is this:

Be an optimist. Winston Churchill identified as an optimist, because "it does not seem to be much use to be anything else." For me, being an optimist doesn't mean that I am always happy; it means that, with hard work and determination, I believe that tomorrow can be a better day. In 1989, when Colin Powell published his Thirteen Rules of Leadership, he ended his list by saying, "Perpetual optimism is a force multiplier." This is because when we fall, we have to get up, brush ourselves off, rest, and try again the next day. Optimism is the impetus that makes this possible.

These past ten years have been amazing, and I can't wait to see what we all accomplish in the next ten! The world is full of people who want to help you and see you succeed. Find them, and focus on growing and strengthening those relationships so we can all succeed together. Create every day, and get your creations out into the world. The world is ready for your insights, your wisdom, your beauty, and your brilliance. Next month, I will debut a brand-new demo video and a brand-new website to send me off into my second decade! Until then, thank you for being with me on this journey. Please let me know what I can do to make your world better!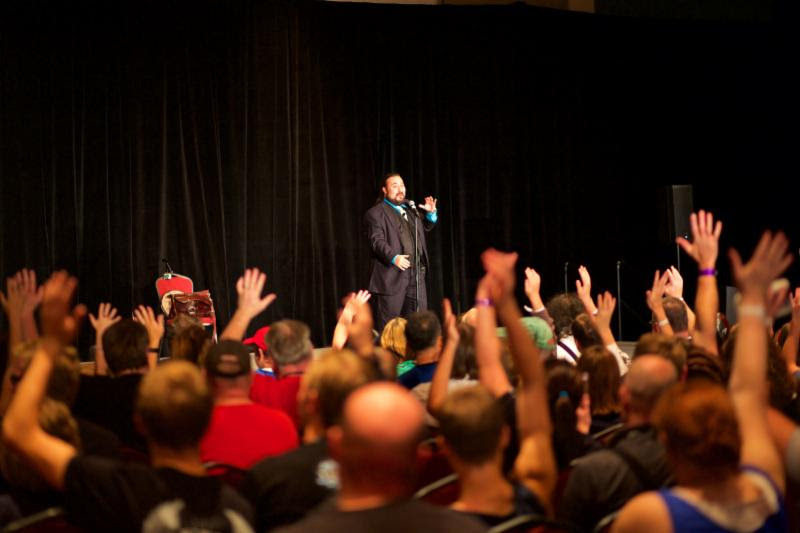 I'm a lumberjack and I'm okay!
A huge tree fell in my backyard: I had about 60 of these logs to cut up and haul. The biggest one was between 150 and 175 lbs. They averaged about 100 lbs. each. Don't worry: I used my legs to lift bigger pieces!
(Ironically, this video of my tossing logs into a dumpster had over 2,300 views the same week that a professionally shot and edited demo for one of my university shows only received 400 views!)
I was also caught throwing axes in a three-piece suit at FanX Salt Lake Comic Convention with #axearena. Not bad for my first try!
Maybe it is time to become a lumberjack! Anybody know where I can find a big blue ox?
MUM and Mystique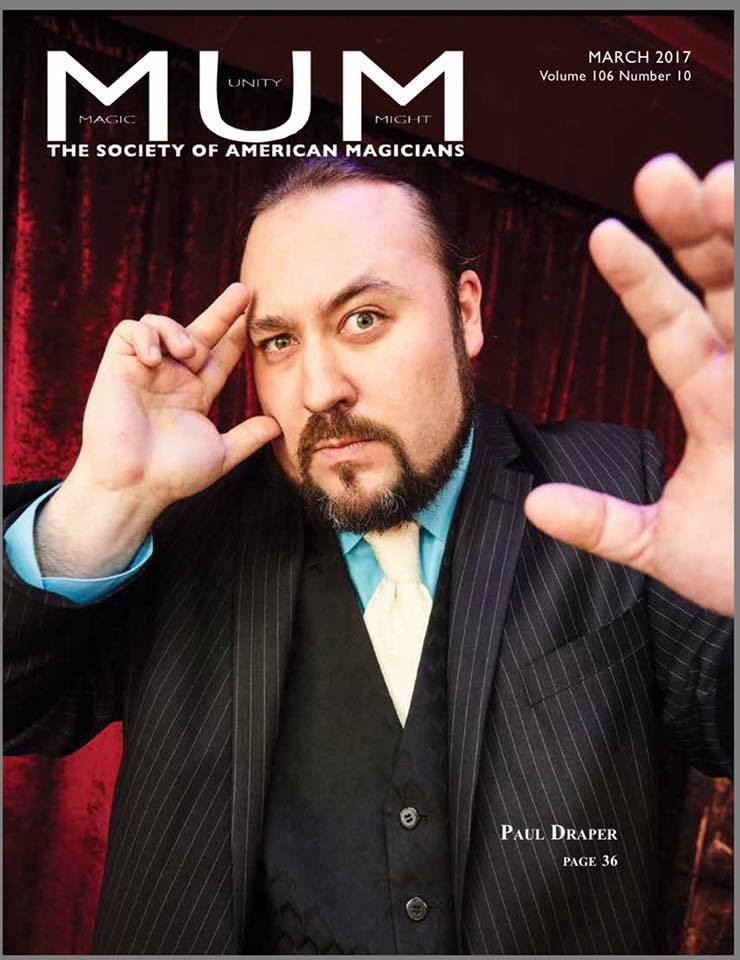 I've been writing a monthly column for MUM Magazine that goes out to all of the members of the Society of American Magicians. I just sent in my article for November! Have you been reading the column so far? Sign up here:
Also An amazing new magic venue just opened up in my home state of Utah, and I was featured as their opening act! I'll be back October 29th – Nov. 3rd
Mystique Dining https://mystiquedining.com
Upcoming Events

Mystique Dining
Salt Lake City, Utah
September 24th– November 3rd

ICCJ Social
Salt Lake City, Utah
October 3rd

Domestic Violence & Sexual Assault Center
Idaho Falls, Idaho
October 5th

Mindvention
Las Vegas, Nevada
October 21st-23rd

Mystique Dining
Gardner Village, Utah
October 24th-27th

Corporate
Gardner Village, Utah
November 6th

Real Estate Event
Laughlin, Nevada
November 10th

Boys and Girls Club
Bryan/College Station, Texas
November 11th

Salty Dinner Theater
Salt Lake City, Utah
November 28th – 30th

Gilbert Construction
Cedar City, Utah
December 1st

Penguin Magic
Columbus, Ohio
December 3rd

Helena Motors
Helena, Montana
December 6th

Jackson Contractor Group
Missoula, Montana
December 8th

SLC IBM Christmas Party
Salt Lake City, Utah
December 9th

Private Corporate Event
Delta, Utah
December 14th

Private Corporate Event
Seattle, Washington
December 15th

Smoke & Mirrors
Philadelphia, Pennsylvania
January 4th-5th

Weber State University
Ogden, Utah
January 7th

House of Cards
Nashville, Tennessee
January 8th-10th

Tennessee Theater Festival
Murfreesboro, Tennessee
January 10th-13th

Utah Theater Association Festival
Salt Lake City, Utah
January 17th-19th

Holladay Arts Council
Holladay, Utah
January 25th

Lakeland University
Plymouth, Wisconsin
February 7th Corporate

Event at The LINQ
Las Vegas, Nevada
March 4th

Poof! Too
Hermosa Beach, California
March 23rd

FanX
Salt Lake City, Utah
April 18th – 20th

Mountain View High School
Santa Clara, Caliornia
June 7th